HHB Fork Braces – Now Available
Well folks, I've been breaking bad on the tubing bender this week.  I'll tell ya, manually bending tube is NOT the best way to get into shape, but it won't hurt thats for sure…
So lets get to the meat and potatoes here…  We love XS's, we love em all…  Bobbers, Choppers, Cafe's, Brats, Resto-Mods, you name it…  We do our best to find the weak points in these old bikes, and make them better.  When we built Tevan's Resto-Mod XS2 – we found out the hard way that the front forks needed some beefing up…  It was just a bit squirelly in the corners are speed, and that to us is unacceptable.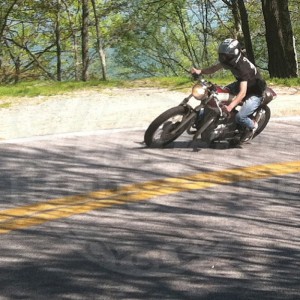 The OEM fender acts as a "brace" of sorts, but it's flimsy and you can flex it with your hands – so that wasn't the answer either.
We looked around the forums, talked to some of our racing customers, and found a serious lack for a proper fork brace.  So off to the shop we went, after about 7 different designs and tests , the final HHB Fork Brace was born out of steel, sweat and even a little blood (careful folks, those metal 'burrs' are sharper than you think!  haha)
Behold, the HHB Fork Brace!  Made from 100% USA Made Steel, fabricated entirely in house and fully TIG welded – it doesn't get much better than this!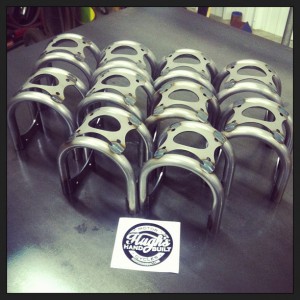 This limited run is designed to work on the 19″ front wheel and tire combo that is OEM on 1975ish and up XS650's with 35mm Forks.  Not sure what forks you have?  Well, now is the time to invest in a cheap set of calipers so you'll have all of the answers to the worlds problems in the future – or something like that.
Tried and true on several race, these have been a LONG time in the making, but we are proud to announce these for sale (*limited quanity available, so act fast).
TO PURCHASE GO TO: THE STORE!!!
****Available only in RAW finish currently.  For custom sizes, (18″ or 21″ wheels) contact us and we'll make one custom just for ya! Current pricing is based on shipping in the US Only – all other countries contact us for a shipping quote.
INSTALL INSTRUCTIONS:
1.  Secure Bike and Remove Front Wheel, Axle, Spacers, Etc
2.  Remove Front Fender (if you haven't ditched that bulky sucker already!)
3.   Slide Fork Brace into place, bolting with supplied hardware to the OEM fender mounts on the forks.  You may have to twist the fork to clear the brake master (removal not required) when sliding the HHB Fork Brace into place.  I prefer the slotted mount holes on the HHB Fork Brace to be towards the back of the bike.
4.  The fit is TIGHT for a reason – we designed these to be functional and great looking.  An ill fitting fork brace would be a cosmetic item, but we expect more from our products.  Loosely install ALL hardware with Anti-Sieze before tightening down any of the bolts.  *If you paint or finish the HHB Fork Brace, you may have to remove the paint from the ID of the bolt holes
5.  Once all hardware is loosely installed, finish the install by torquing the hardware to OEM spec, and reinstall your wheel and brakes components.  Ride on
https://www.hughshandbuilt.com/wp-content/uploads/2014/09/forkbrace_nickel-watermark.jpg
1000
1000
Hugh Owings
https://www.hughshandbuilt.com/wp-content/uploads/2014/05/white-logo-shadow.png
Hugh Owings
2013-07-03 22:29:42
2015-01-19 22:35:03
HHB Fork Braces – Now Available