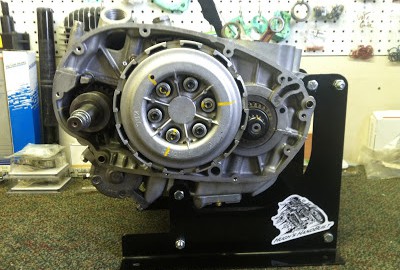 SOLD! A Rare One – Fully Built Bottom End Now Available for Exhange. SOLD!
SOLD SOLD SOLD SOLD SOLD SOLD SOLD SOLD SOLD!!!!  This thing was gone in less than 4 hours of posting it up for sale!!
Well folks, I'm finally getting into the middle of the road for you XS650 fans…  Middle of the road?
Most of you know that we offer our exchange crank and cam services so you can build your own engine using our 277 Rephased Goodies.
Plenty of folks are capable of building their own engine, but not all
are comfortable doing so.  This is quick and cost effective for the
customer willing to disassemble and reassemble their own engine.
Then we started offering full engine building services
– being very time consuming and costly for the customer…  We love
building them, but have been backlogged on engine builds for a while,
and sadly have been turning customers away almost everyday for engine
builds.
So whats the middle of the road?
A Completely Rebuilt and Rephased Short Block XS650 Engine from Hugh's
HandBuilt!  Now anyone who is comfortable installing a top end on these
engines can have all the hard work done and done correctly.  This Bottom
End has all the tricks and components we put in our full builds, and is
ready for any top end you can throw at it.  It has the build quality
and components to handle anything from a daily rider to a race bike.
These will be offered only when we have one pre-built and ready to go.
So what do you get? The Following Comes Pre-Assembled for you.
A Rare Bird you say?  Well folks, I've had this bottom end in my personal collection for a quite a while.  I scored this several years ago, and it came out of a Factory Sponsored Race Bike.  It originally came with the all-so rare Factory 750cc Pistons and Cylinders and (which I sold off long ago) and was in a Flat Track race bike.  When I got it, it was still left side shift too! (it is now standard shift)
So this engine block has some Race History, which is pretty cool.  Then you add in the fact that this engine was never stamped with an ID number, which verifies it to have never been in a production street bike and the cool factor goes way up.
I have very carefully and lovingly added only the best of the best into this Bottom End, and now it's time to part with it.
Some of the awesome things I have done to this engine include Polishing the Shift Shaft, Shift Drum, Crankshaft Flywheels and then adding in the normal goodies that we do to a Hugh's HandBuilt engine build.
This Build Sheet includes:
Rephased and Fully Welded Crankshaft (Mildly polished)
Polished Shift Drum
New 447 Rods
New Rod Bearings
New Rod Thrust Washers
New Rod Crank Pins
Fully Polished Bearing Surfaces
Late Model Transmission
5th Gear Overdrive Installed
Cases are Aqua Blasted and Fully Cleaned (Unpainted, Beautiful Natural Finish)
New Sump Filter
New Stainless Hardware
New HP Clutch Disks
New HP Clutch Springs
New HP Throwout Bearing
New HP Clutch Hardware
New 1 Piece Clutch Rod
New Camchain Pre-Installed (includes Master Link)
Refurbished Camchain Tensioner Installed
New Starter Gear Fix
New Bottom End Oil Seals
New Gaskets
New Shift Shaft Assembly (polished)
New Shift Springs
Electric Starter and all gears pre-installed.
7 Pack Cluch Basket
What else is included in the purchase?
Matching 447 Rephased Camshaft
Base gasket
Head gasket
All Misc. Gaskets Needed for rebuild
All Oil Seals Needed for rebuild
Stainless Hardware Kit
New Side Cover Oil Filter
This is easily the nicest bottom end I've ever built, and with the special attention to the shifting mechanisms this thing should be a dream on the road.  It will also easily handle any top end you can throw at it.
So basically, here is how this works…   You send us your bottom end and camshaft as
a core.  You will remove the entire top end, pistons, cylinders, head
studs, etc..  Keep your engine side covers, cam chain tensioner and, charging system, kickstart lever, chain sprocket and nut.  We prefer you
ship the bottom end to us on an engine stand (TC Bros makes a nice one)
and in a well protected crate/box.  The only thing we ask is that your
bottom end is not seized or damaged.
We will then ship you our Bottom End as soon as we verify your core as
rebuildable.   And all you have to do is reinstall your top end and go.
This can easily happen in a weekend for most of you folks.
If you prefer to have our bottom end in hand before shipping us your
bottom end, we charge a $500 core charge which is refundable after we
receive your core.  We are happy to work with you as best we can.
The above listed XS650 Bottom End is available today for $1890.00 plus
your core charge.  We accept Check/Mo/Cash and interesting trades.
Paypal can be accepted under certain conditions, and Paypal fees will be
added to the purchase.
We can easily add a Hugh's HandBuilt Permanent Magnet Alternator to this unit for no extra labor costs if you so choose, just let us know.
Contact HughsHandBuilt@gmail.com if interested
PS – UPS can ship these in a crate, they are well under the weight limits
https://www.hughshandbuilt.com/wp-content/uploads/2014/10/rare-one.jpg
299
400
Hugh Owings
https://www.hughshandbuilt.com/wp-content/uploads/2014/05/white-logo-shadow.png
Hugh Owings
2012-11-14 14:24:13
2014-10-23 14:27:32
SOLD! A Rare One – Fully Built Bottom End Now Available for Exhange. SOLD!