Tuned and Stepped X-Pipes for XS650…
Well folks, before you start blowing up the email and comment section, these are NOT FOR SALE – at least not in the near future…
However, in our never ending quest to make the XS650 better each day, my total gear head shop helper Cody sat down and mapped out the proper formulas for a tuned pipe on a bone stock XS650 Engine (our 1975 Test Mule runs a 650cc engine that we found in a shed, no internal modification, except for an oil change and a slipping clutch).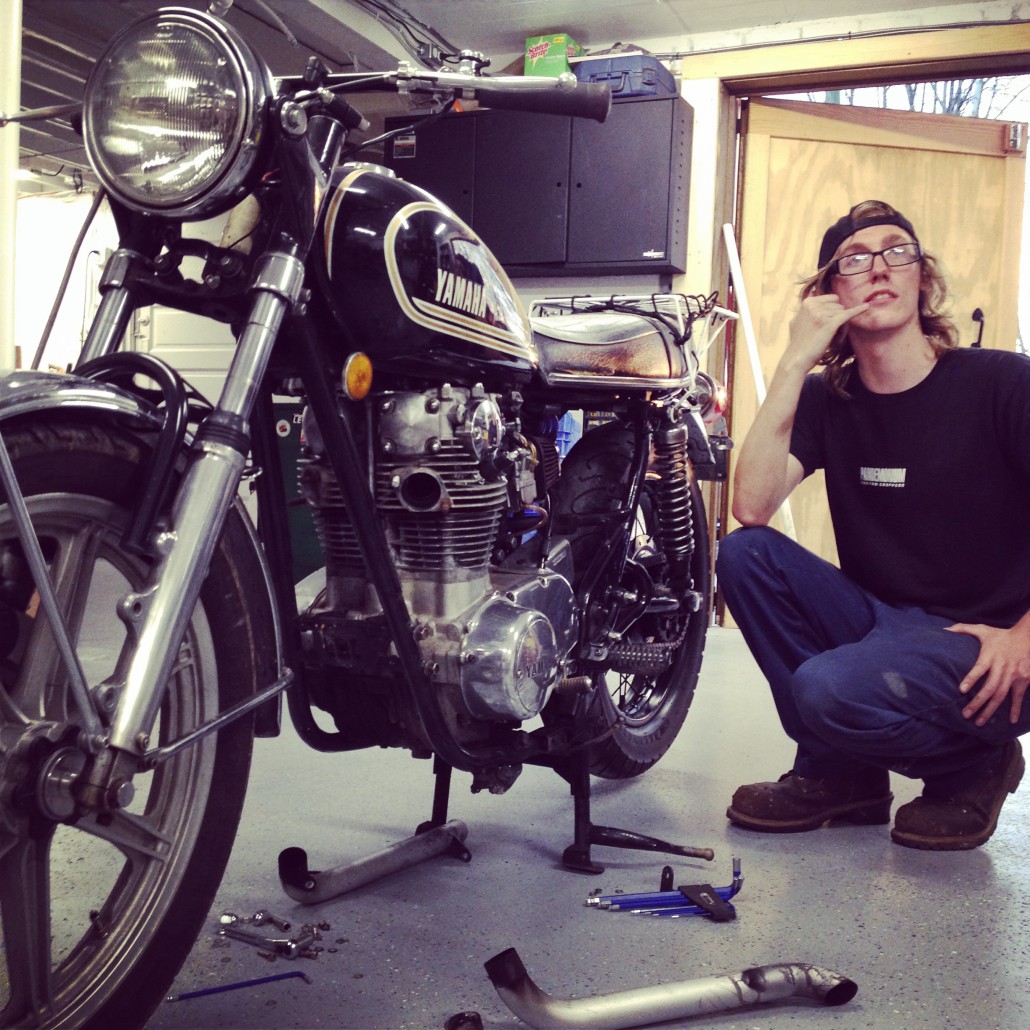 Tevan looks over, with his typical look of total disapproval – as we gut the existing exhaust from our  1975 HHB Test Mule
Based on bore, valve size, rpm range, desired rideability and a great many other factors, the mathcan get a bit crazy!  But if you are curious, there are plenty of formulas out there to work from…
Using some scrap tubing, and a previous X-Pipe we had tested for this bike, we cut down a few things, took some measurements, charted and graphed vaccuum pull, and settled on a design that would allow for maximum cylinder scavenging effect.  The effect of a brew sent to us from a Customer/Friend down in Texas didn't hurt either.  (And apparently, my #Buyhughabrew tag on instagram works quite well!)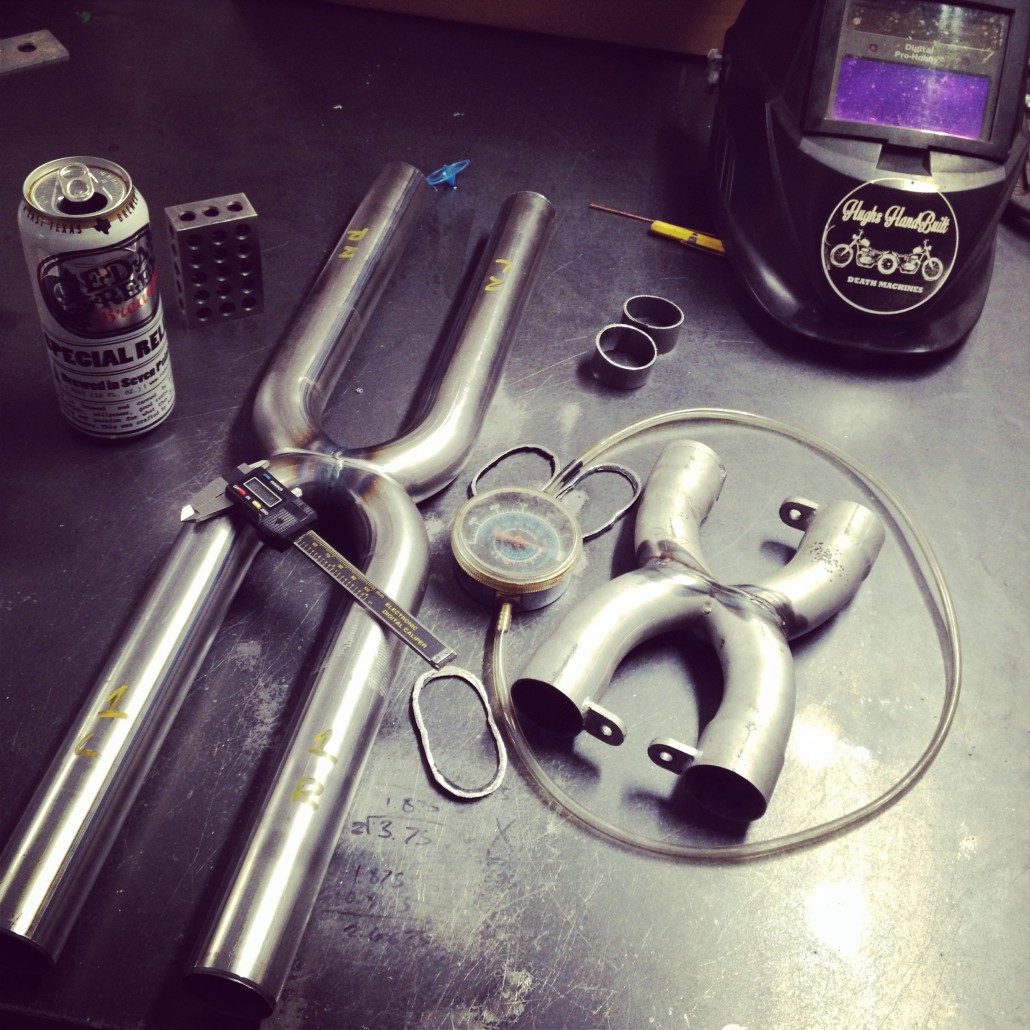 With a bit of finish work, we ended up with a tuned header pipe, going from 1.5″ headpipes to a final 1.75″ Tailpipe.  We build our own baffles here in house for our exhaust (look for an upcoming tech article on that!)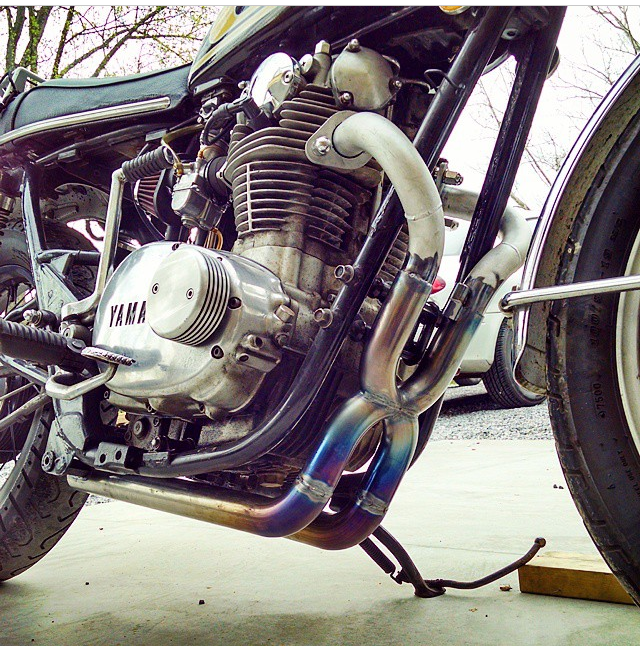 At first install, it is quite obvious that some tuning needs to happen (hey, if ANY pipe is sold to you as "100% Bolt-On, not jetting needed" then they are selling sand to a camel, or the pipe just doesn't do much – trust me, there are lots of snake oil salesman out there…) – but one look at that heat signature lets us know that the scavenging effect is working quite properly!  We've already adjusted the tune a bit on the carbs, and hopefully we'll see some results soon!
A bit about this machine – Cody rides it almost daily, on a 160 Mile daily commute to and from Hugh's HandBuilt…  He alone puts more miles on an XS650 than most anyone I've ever met, and with that, he also tests each component we build for the ultimate in durability – allowing us to continue the tradition of offering fully tested products and components to you folks…  This bike has run our HHB Speedster Bars,   HHB Fork Brace,   HHB Upper Motor Mount Kit,   HHB Lower Motor Mount Kit,   HHB Oil Cooler,   HHB PMA System,  HHB Solid Riser Bushings,   HHB Speedster Pipes and a great many other things that we haven't even brought to market just yet…
So when we say "Hugh's HandBuilt Tested and Approved" – we mean it!
As always, thanks for the support folks!
Hugh
https://www.hughshandbuilt.com/wp-content/uploads/2015/04/IMG_44982.jpg
2448
2448
Hugh Owings
https://www.hughshandbuilt.com/wp-content/uploads/2014/05/white-logo-shadow.png
Hugh Owings
2015-04-13 20:41:38
2015-04-13 20:48:15
Tuned and Stepped X-Pipes for XS650…